Award Winning JJ Goes to Puppy Class
Priceless lessons for families getting ready to train a puppy!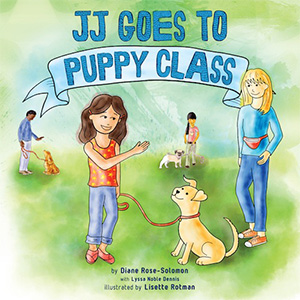 To purchase SIGNED copies, you can do so here via Paypal. Be sure to add "Please Sign" along with the name to whom you would like the book(s) to be signed in the special instructions page on Paypal.
Alternatively, you can purchase via Amazon (though books shipped from Amazon cannot be signed).
Please contact Diane about international shipping rates.
About the Book:
Maya just adopted her puppy JJ and couldn't be more excited! JJ is excited too and you know what that means… he's digging holes in the garden, jumping up on furniture, having an occasional accident in the house and many more puppy-like things! Maya's mom signs the whole family up for puppy-training class, where they will have fun learning how to keep JJ and those around him happy and safe. Plus the bonding time spent together is priceless!
JJ Goes To Puppy Class is a beautifully illustrated story that helps pet loving families teach their children about patience, consistency, kindness, responsibility and unconditional love — just some of the important values parents and educators endeavor to impart in school age children.
In JJ Goes to Puppy Class Maya and her family enroll JJ in positive obedience training so he can learn what is expected of him inside and outside of the home. Perfect example setting for the five to nine year old reader. The training methods described in the book encourage Maya to be gentle and comforting towards JJ in his new environment. JJ exhibits all the typical puppy behavior: accidents in the house, pulling on the leash, unwanted chewing, etc. and trainer Lyssa teaches Maya and her family how to work with JJ on each behavior in a humane and patient manner.
What People are Saying about JJ Goes to Puppy Class:
This book gets 2 paws up from me! What a fun way to teach kids about responsible pet ownership.

The issues depicted in the book are real-life scenarios one encounters with a new dog, and the training advice is sound. I also love the focus on the value of adoption coming from JJ's story as a rescued street dog.

-Justin Silver, Celebrity Dog Trainer
Author of The Language of Dogs, Host of Dogs In the City, CBS

JJ Goes to Puppy Class reminds us dog training can be fun for the whole family.

I highly recommend this book as it shows us how to begin the life long bond with our new best friend!

– Lynn Medlin, Owner, Dog Town Dog Training
Founding Trainer, K9 Connection

A stellar success…In a fun and caring way, this book shows children the importance of helping puppies get started on the right foot, setting them up for a lifetime of success and joy living in human society.

– Franklin D. McMillan, DVM, Director of Well-Being Studies
Best Friends Animal Society
Read more reviews!
Write Your Own Review!